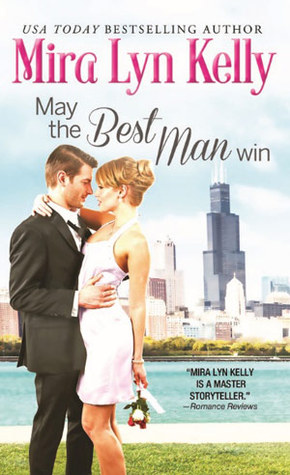 May the Best Man Win (The Best Men #1)
Published August 2nd 2016 by Sourcebooks Casablanca

Audiobook

Narrated by:

Length:

10 hrs and 9 mins

Unabridged

Audiobook

Release Date:

12-20-16

Audiobook Publisher:

Blackstone Audio, Inc
(this is a rating based on fun read scale)
May the Best Man win by Mira Lyn Kelly was a big surprise to me. I honestly usually on these kind of books enjoy but rarely think they are worth a 5 star appeal. Fun reads are fun reads but still to get the 5 star has to go the distance plus a bit more.
So this book had me on Chapter one how many books start out with Foul Mouthed Priest , a groom with a black eye and familiar voices I was already locked in. I had never read / listened to a book by Mira Lyn Kelly and I am unsure how I had missed it. She has the same feel as Rachel Van Dyken's Consequence series with more contemporary writing, and a little less humor (not that these aren't funny I mean look above at Chapter one just the Consequences series I had to hold my hand over my mouth to stop from laughing at work) I love the dynamic with all the characters. The only thing with this book that got me was the social life these people have. They have so many friends and mutual in one way or another without Emily and Jase being ever in same area. I think in the course of the book 5 weddings are mentioned all of which they are in the wedding party and that is just in the book timeline (and this isn't in a super long time frame maybe a year, year and a half) . Overall though I am still basking in the enjoyment. Just be warned there are a few scenes that are a bit intense to say the least and being it is on audio and at work it got a little awkward since during one of those scenes I don't know how this keeps happening my boss comes up to ask a question. But they are not to much so for the most part you are safe this is not erotica.
Both the characters have a past but it isn't a big part of the story even though I feel it was meant to be. I mean they talk about the past and what happened and the strain but it is kind of like they do it as a side note. Although have a feeling the character that came between them might come back in another book in the series. I can't wait to see what happens to this awesome group of friends.
The Main Characters:
Jase - Tall, clean cut, muscular he sounds so yummy. His character is the all around good guy. He isn't really a player just a non committal type which seems a theme with a lot of contemporary romances. Great friend to all. Hence why he keeps being a Best Man or Groomsman in so many weddings. He is snarky and fun. He would be an awesome book boyfriend.
Emily - Her character is awesome. She has her stuff together even when she doesn't . She is calm cool and collective. Tall and slim and beautiful. Her height always gets her stuck with Jase even when they hate each other. She too is an awesome friend
Their are so many friends that I will just summarize their friends. They are a hilarious fun group. The series looks like it focuses on a few of them while others are already married. Again they were very popular people.
Audio Book Thoughts;
Performance 5 out of 5
Narrators
Seraphine Valentine

and

Tad Branson
To begin with I thought Tad Branson sounds so much like another male narrator I thought I had heard him before but after checking the books he has read I haven't. He has the sensual voice I love with a snarky undertone. It fits so well with Jase's personality. I could really see Jase sounding this way. Then we have Seraphine Valentine she is great as well. Clear and on point. Both keep me engaged with the story. The hardest part I have to say about this book though is the fact it is never 1st person perspective it is always third person with a centralized person in mind. So you get the thoughts without ever being in their brains sort of speak. A lot of narrators have issues and it gets confusing but these 2 I was always clear on who was the centralized focus even when they were doing the opposite genders part.
When listening to contemporary romance books the narrators are who makes the story for me because these are just so much fun with actors. If the voices are bland or don't fit they are so easy to turn off. So the voice actors were well chosen.
Quote:
"But I hate you."
"I know, honey." Jase pulled her to his chest, closing those powerful arms around her so all she could do was crumble into him. "I feel the same way."


This audio-book was provided to me free of charge by Blackstone Audio and Audiobook Jukebox for an honest unbiased review