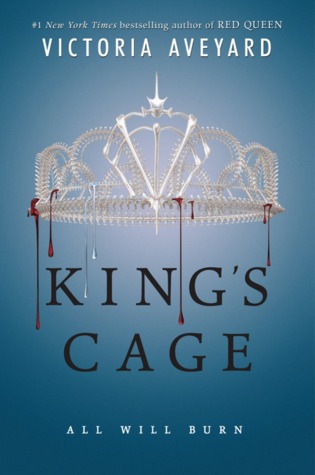 Intitial Reaction before the review :
Kings cage by Victoria Aveyard at the end my reaction. WHAT !NO NO NO NO NO! WHY ONE FULL YEAR ::KICK AND SCREAM:: can you tell it was amazing. review coming soon
So where to begin. This review actually took me a couple days to write after I finished just because I had to wrap my mind around everything and wow there is a lot. I can say this one flowed much better then Glass Sword Although I rated Glass Sword a 5 after I read it the first time I can say it was the weakest of the 3 books so far. Where Red Queen kept me captivated Glass Sword was leading into more. Now more has come in Kings Cage.
The biggest difference of all is this is not told solely from Mare's POV. When I originally read that there were multiple POV my first thought was one of the princes but no it is 3 women now. Although Mare has a majority of the narrative we also get to see in Cameron's eyes to keep up with the Scarlet Guard as well as this was the biggest shocker of all
Evangeline. I was really surprised by the character selection because they are such different characters and the fact they were characters in the books but not as pronounced as lets say Farley, Cal, or heck even Maven throughout the other books.
Allowing me to see in both of their minds really really made me understand more and actually feel closer to characters I really didn't think much about.
I want to start off first saying I feel this character has made a lot of sense of what had happened in the previous books. The first and especially second ended up leading into this and things that happened shaped it. The story starts with Mare being locked up by Mavin although not a typical prisoner. She is constantly guarded and has to wear silent stone manacles that are covered up my what she wears. We also see Mavin as king. His character as always is so deep. Although I want to hate him no matter what I cannot. Everything he is shaped into is horrible but yet I feel for him. Mare and Mavin hold a very special connection (although very warped at the same time) that just cannot be broken. Mavin despite everything knows how to play the game well as king. Although always seemed kind of week he commands well and knows how to talk. He is charismatic to the people and so manipultive but he found a way to have people love him . (really being careful with spoilers here). This book really is his book through and through.
Mare's character in this book has grown so much. In Red Queen she was young but this book she really has grown. Not maybe as much age wise (although it has been a year about) but mentally. Her character did not have it easy in this story. She is suffering from PTSD, lonely, and really only has Mavin (if he comes and sees her). She is being manipulated constantly but yet her spark doesn't die unlike most people who if in the situation would. She is realizing how many wrongs she has mad and coming to terms and wanting to fix those that she can. Her character in this book I came to really love her. She has became what a strong character can be.
Then onto the world of Cameron and the Scarlet Guard. As I have mentioned prevously this book is done in different POV so we got the snarky Cameron. I would consider her kind of a secondary POV. She is a feisty character for sure and she isn't afraid at being opioniated. I really like her. You get a true feel of who situation without blinders on. (Like we get with Mare sometimes) Her character is kind of there but never fully involved. She was a much better choice all things considered. She doesn't have a close attachment with any character she just wants her brother and will keep asking. She shows you the world about Cal and how he thinks he is in command but not really and then there is command. You get a lot of the animosity and game playing she sees and really doesn't fall for it. If I share to much of this again spoilers can override.
Finally we are brought to the inner workings of the castle in little snippets of Evangeline which was a character I was most shocked to hear. Although there is not a lot this book does make more sense of what is going on and dare I say I like her. She is still a bit but wow her character has grown on me.
Overall this story is twist and turns and none stop from beginning to end. To say the ending did not cut me it would be a lie. I am so invested now and cannot wait for the last book. Why oh why a year.
I really feel all the narrators did a great job i just think Cameron's made her sound a little older then she should of. Although snark just to old. It sounded like a 30 year old not a teen. Other then that they kept great pace and on my toes.
Top 3 Quotes of the book be warned these might contain spoilers
(You might sense a theme with these)

"Now I'm in a king's cage. But so is he. My chains are Silent Stone. His is the crown."
"There are pieces of me, small pieces, still in love with a fiction. A ghost living inside a living boy I cannot begin to fathom. The ghost who sat by my bed while I dreamed in pain. The ghost who kept Samson from my mind as long as he could, I know, delaying an inevitable torture.The ghost who loves me, in what poisoned way he can.And I feel that poison working in me."
"I thought I knew what heartbreak was. I thought that was what Maven did to me. When he stood and left me kneeling. When he told me everything I ever thought him to be was a lie. But then, I believed I loved him.
I know now, I didn't know what love was. Or what even the echo of heartbreak felt like.
To stand in front of a person who is your whole world and be told you are not enough. You are not the choice. You are a shadow to the person who is your sun."