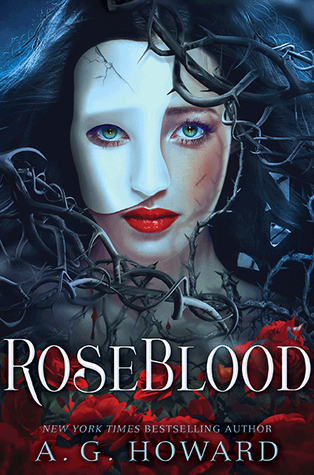 Roseblood by AG Howard takes you into the world of Phantom of the Opera again with an amazing new telling of the infamous Phantom.
It starts with Rune being sent to Roseblood a prestigious school in France. This school is super competitive and very hard to get into. It is also rumored to be the place that the original Phantom had lived all those years ago and the story was wrote about (There are lots of references to the Phantom of the Opera by Pierre Lafitte this is not the same story if anything more of a continuation). Rune is a musical prodigy at least that is what it seems on the outside but not the same on the inside. She hates singing and when she hears a song (not all songs but ones that speak to her mainly opera) she has to sing it or it makes her physically sick. People get mesmerized by her voice.
Her character is very hard to pinpoint throughout the book she grows so much. At times I want to smack her other times I just want to hug her. She is fighting her demons some she does not even know about. She is a unique character and has many traits that can be relate able but at the same time has the tortured soul persona .
Then there is Thorn I have to tread very lightly with his character to avoid spoilers but will say his character fits with AG Howard writing style. He is a mystery and he is tortured but he also has book boyfriend traits. His character is deep to say the least. I can honestly say he was not what I 100% what I expected. ----Stopping here to avoid spoilers)
The supporting characters are fun and insightful you have all the classic cliche characters you would expect from a prestigious school. The prima dona , the scholarship student, the conflicting twins , etc. She does have other friends as well but really they are more just kind of background. I am thinking the names sound kind of familiar as well as some back story but can't place or maybe I feel there should be one that hasn't been published yet. Her friends at the school were fast friends and although some of the characters I didn't personally like doesn't mean they don't fit.
The story is full of huge twist and turns and some shocks (Yes I said shocks). So if you like Splintered check this out.
AG Howard has a way to continue classic stories and make them her own. Splintered was amazing and this one to me was too. Her books though seem to either be love or hated. For me I love her writing style. It is amazing and I hold on to every word. If you love Splintered you will love this.
On to the audio book portion:
Rebecca Gibel is an amazing narrator she really gets you into the characters. She has unique voices for each character so easy to discern who is speaking. Her voice flows well with the characters. She also is clear and pleasant. I loved the way she narrated Splintered as well.